We've received details about the official spec of Tesla's "Acceleration Boost" upgrade.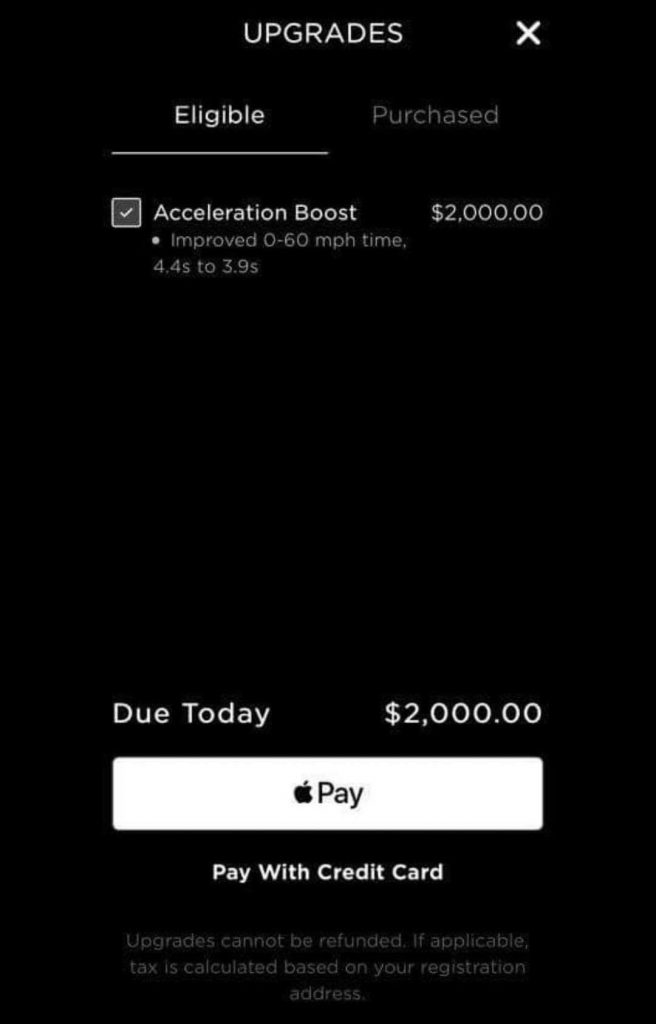 The Acceleration Boost currently available is rated at 3.9 seconds, up from 4.4 seconds, for Long Range All-Wheel Drive Model 3 owners. A customer has informed us that he's now able to add the "Acceleration Boost" via his Tesla account.
The cost of the upgrade is $2,000. It is offered in addition to Autopilot and Full Self-Driving Capability as an option that can be added after delivery. (Thus far, Tesla has not added the Acceleration Boost to Model 3's configurator.) It requires software update 2019.40.2, which has yet to be released but is expected before the end of the year.
The upgrade is available via Tesla's account page and via the Tesla app.
As far as we are aware this upgrade is only available for Long Range All-Wheel Drive owners, though we encourage owners of other configurations to share details if it becomes available to them. Contact us with tips at michael@onlyusedtesla.com
Real Talk
An improved 0-60 time of about 10% isn't insignificant, though it won't have the same effect on resale value as expected. There is still enough of a difference between Long Range All-Wheel Drive (up to 3.9 seconds with the upgrade) and Performance models (a minimum of 3.2 seconds) that this change won't affect sales of the Performance model — or a customer's desire to upgrade to a Performance Model 3. As far as resale, it's more of a sunken (unnecessary) cost that predominantly benefits the original owner.
This is an example of Tesla listening to customers, as All-Wheel Drive customers have said time and time again that they would pay extra to upgrade their vehicle's acceleration. The Performance model does use the same motors but they're "cherry-picked" for maximum power output, so it wouldn't have been possible to completely replicate the Performance upgrade.