Tesla's advertised price increases took effect across its lineup early this morning, with changes that are less significant than anticipated.
Model 3's base price remains at $35,000 while the Standard Range Plus variant, which adds a partial premium interior and additional range, saw its price increased by $500 to $37,500. All other configurations of the Long Range and Performance models have increased by $1,500.

Meanwhile, Model S and Model X's prices have increased an average of 2%. The base price of the S has increased from $79,000 to $85,000; however, the software-limited Standard Range configuration is no longer offered so the difference in price includes 40 miles of additional range. Effectively, the price increase on the Long Range Model S is $2,000. Model X saw its base price increase slightly from $88,000 to $89,500.
MODEL S STANDARD RANGE GONE NOW:


MODEL S LONG RANGE ONLY:


MODEL X: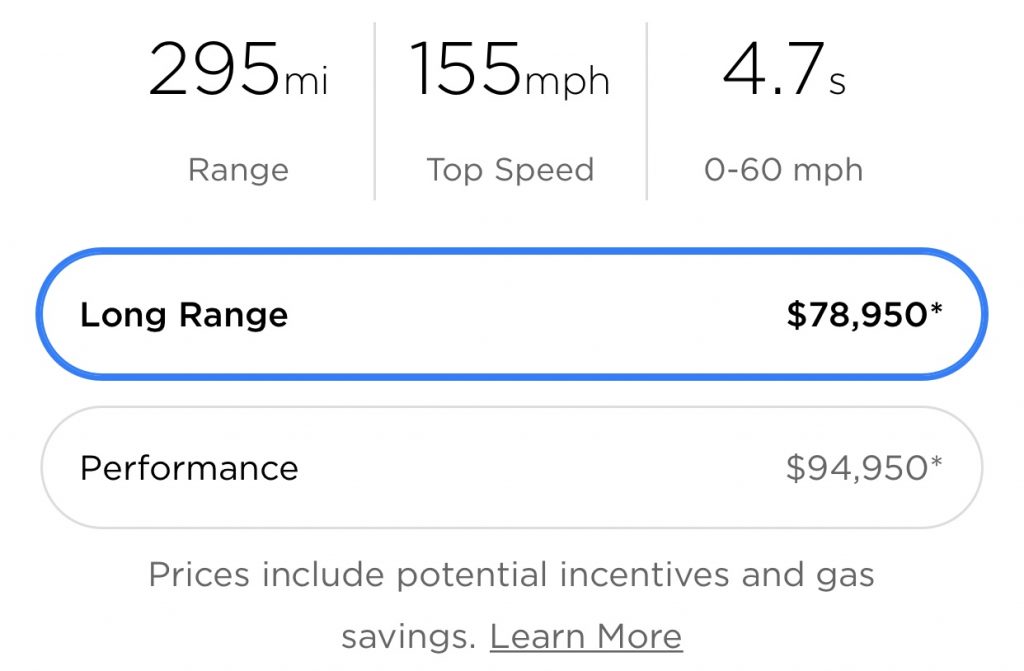 MODEL X:

These minor price increases come after Tesla's decision to keep over half of its store locations open. Originally, the company had planned to close all stores in order to pass on cost savings to consumers. With this reversal of course, the company had decided that they could only pass on half the savings they had originally intended.
Real Talk
We think Tesla has settled on ultimately the right prices for its lineup. Since the Standard Range Plus model is intended to provide additional value to prospective Model 3 buyers and ultimately raise the average sale price of the vehicle, the lower-than-anticipated price increase of $500 is welcome. It made sense to stop offering the Standard Range Model S as it was really a software-limited model with the same battery as the Long Range, meaning the cost difference to manufacture was minimal at best.
For reference we have included photos of the differences in pricing and configuration; however, please note that on the Model S and Model X the "after savings" prices today include a $2,500 California state rebate.
Want to keep tabs on the used Tesla market so you can snap up a good deal before anyone else? Bookmark our listings page.
Want a 100% free Net Present Value estimate on your Tesla? Contact me directly at contact@onlyusedtesla.com
– Adam Qureshi